Cathedral of Praise Church of God in Christ, International is located in the South End of Bridgeport, Connecticut.  The church was founded in 1956 by the late Bishop Alonzo T. Turner, and was formerly known as "Turner's Faith Temple."  Our current pastor, Bishop John C. White, began leading the ministry in 1979 at our former location, 360 Colorado Avenue, Bridgeport, CT.  The ministry has seen tremendous growth over the years under Bishop White's leadership.
PASTOR'S BIO: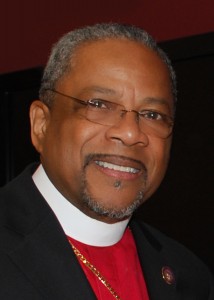 Bishop John C. White is a native of Brooklyn, New York. In his early years of ministry, he served as a Deacon at the Institutional Church of God in Christ, International and the Director of the world famous Institutional Radio Choir. His composition "Stretch Out" launched the Institutional Radio Choir on the road to popularity. J.C., as he is affectionately known, acknowledged his call to preach the Gospel and joined the quorum of ministers at the Institutional C.O.G.I.C., International.
In 1979, J.C., as an Elder and Assistant Pastor of the Institutional C.O.G.I.C., International was called to pastor at Turner's Faith Temple Church of God in Christ, International in Bridgeport, Connecticut. God continually blessed the ministry under the leadership of Elder White and he was soon elevated to the office of Bishop and given the States of Connecticut and Virginia as his jurisdictions. He later served as Chairman of the Board of Bishops and Vice- Presiding Prelate. In August, 2000 he was appointed Presiding Prelate of the Churches of God in Christ, International. Bishop White has traveled extensively throughout the United States and abroad preaching and teaching the Word of God, leading the lost to Christ and bringing the message of hope to the hopeless.
Bishop White holds an Honorary Doctorate of Sacred Music from the Pillar of Fire College in York, England for his many great musical accomplishments, a Doctorate of Divinity from the Eastern American University in Indianapolis, Indiana, and in June, 2007, Bishop White received his Doctorate of Theology from the North Carolina College of Theology. In 2006, the Lord led Bishop White to change the name of the church to Cathedral of Praise. Under Bishop White's leadership, Cathedral of Praise built a new worship edifice in the South End of Bridgeport, and held it's first service Easter Sunday, March 23, 2008.  The Lord has given Bishop White a Vision for Cathedral of Praise and the City of Bridgeport, Connecticut to build an elementary school; a senior citizens high rise complex; a full-time day care center; a training center for ex-offenders; a halfway house; and a house for unwed teenage mothers. Bishop White has also established our International Bible School.
With a congregation of over four hundred members and a ministerial staff of over forty ministers, Bishop White has begun his quest to establish churches throughout the State of Connecticut. Affiliate churches are currently located in New Haven, Hartford, Bridgeport and Fairfield. God has spoken and confirmed the Ministry and the Vision.
Bishop White has been married to Lady Gloria White for over 57 years and together they have 5 children, 13 grandchildren and 3 great-grandchildren.